JustPicsPlease review
back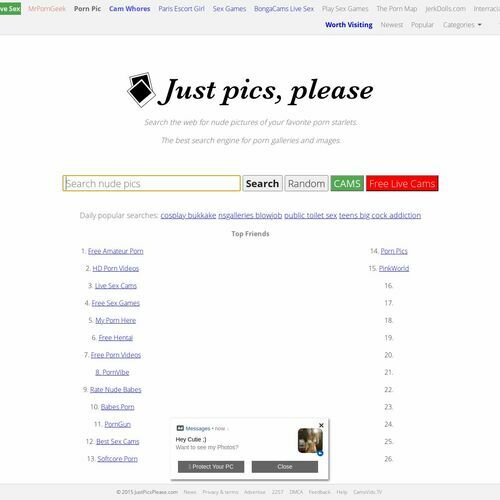 JustPicsPlease
The site features some of the hottest and newest porn videos and scenes everyone is possibly watching out for. There is an awful lot of freedom on this site including being able to access, stream and download videos for free without any goddamned limitations whatsoever; they can call out dead links as well as request for videos. I can also bet with such a diverse categories list, everyone's favorite poison is dully served. Videos & Scenes Considering that the site hasn't been running for even half a decade already, I would say that they have shit when it comes to video quantity which is probably as a result of their relentless frequent daily updates. All of the videos are crystal clear and of impeccable quality with most of them featuring some of the hottest top pornstars. I was literally taken back by the wonderful work put in by the team to try and comprehensively describe scenes featured on the videos. Once you read a couple of the descriptions and previews, you will be able to tell what's coming for your cumming. The storylines seem way too fantastic and thrilling in the most erotic way. However, I must warn you to brace yourself for even the most disgusting of scenes say; drinking of piss in pissing scenes, eating feces in scat scenes or even scary with a pregnant woman getting banged really hard in pregnant porn scenes. Well, if you won't love what you see, then you will definitely love to hate it. The biggest bullshit of all time that I came across on this site was the video streaming and download shit. I am not even sure about the videos, they seem to be hosted probably on openload and you can either stream from there, streamcherry or go unlimited. Worse still contrary to the free promise of downloading the videos you can only do so at a premium membership fee. Categories & tags I don't know what heck of a word other than diverse that I could use to describe a site whose categories go from; adult games, anal, anal fisting, pussy fisting, BBW, big dildos, bondage, femdom, gay, incest, interracial, lesbian, Milf, pissing, pregnant, teen, shemale, creampie, hardcore, voyeur to scat among other categories. It's almost like in a way it encompasses the most fetish or kinkiest of them all. If you are looking for specific studios you the tags will come in handy with listings of the likes of Chaturbate, Brazzers, RealityKings, DDFNetwork among others. Fucking awesome, right? External porn site links Just so you know how much these folks have put your porn thirst into consideration, they have listed down a couple of sites that are almost like theirs. You know what they say; the apple does not fall too far from the tree. These include; pornfun.com, planetsuzy.org, porn7xxx, TubeVsex, watch my GF and teen porn. Also, in as much as the prospect of chatting with models online for free is pretty much enticing it looks pretty much of a ploy to get you to sign up for a Chaturbate membership. Besides, they have provided where the actual sauce really lies. Imagine having close to 200 sites both premium and free all listed down for you, reviewed, ranked and classified according to what sort of shit they table best. One thing that's for sure being that this motherfucker is downright lethal with his skeptical views as he screens all the sites shit himself and even makes time to include their updates. Memberships Well, accessing the porn blog site is literary free and so has streaming and download of videos been over the years but you know what people say that things change just like bullshit happens. Currently, they have introduced a keep to share premium membership which entails the usual basic registration bullshit and provisions for various premium packages. These comprise of the premium pro at 11.75 dollars per month for 50,000 MBS daily and premium $9.50 monthly for 20,000 MBS daily. Buying premium pro means that you get to enjoy; maximum download speed, download accelerators, simultaneous downloads, files are checked for viruses, my favorite files, unlimited video preview, anonymous downloads, bigger storage and max file size of 10GB while buying premium only guarantees you maximum download speed, download accelerators, simultaneous downloads, and resumable downloads.
Pros:
frequent daily updates, lots of free hot videos, awesome navigation, lots of naughty categories
Mobile Support
Cons:
downloads are for premium members, ads, banners and redirecting links.